Magic Carpet Cleaning is offering broad range of cleaning services in South London such as carpet & upholstery cleaning at some of the most competitive rates in the area.
You have a dirty carpet to take care off in your home or office? Don't worry, we service both domestic and commercial properties and it does not matter if you are a tenant, home owner, landlord or property manager – with Magic Carpet Cleaning you get a consistent high quality cleaning service, no matter what.
Call 0208 861 0979 now and book a service or simply fill the form below.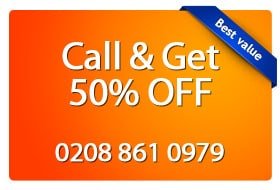 | Carpet Cleaning | Was | Now |
| --- | --- | --- |
| Small room | £ 40 | £ 20 |
| One bed flat | £ 160 | £ 80 |
| Three bed flat | £ 190 | £ 95 |
Cleaning carpets and upholstery in South London
Some of you may think carpet cleaning is complicated, or even something that you need to consider. In truth, everyone should consider carpet cleaning from time to time, as the Magic Carpet Cleaning professionals in South London can demonstrate to you.
In and around South London, carpets naturally attract dirt, wear and tear as we trample across them each day with our trainers, shoes and boots. Cleaning will not only greatly improve the look and feel, but can also extend the life of your carpet! When you calculate the cost and inconvenience of getting yourself a new carpet, you will no doubt see how cleaning is a much cheaper, and quicker alternative for you in South London.
There are many different types of carpet cleaning and our professionals are fully trained in knowing the very best to use when it comes to treating your carpet. It may not seem like carpet cleaning is a particularly complex task, but the professionals at Magic Carpet Cleaning South London will show you how to get the best out of your carpet.
When it comes to cleaning carpets in South London, you can opt for dry carpet cleaning, with dry compound or encapsulation, or bonnet cleaning. You can also choose Hot Water Extraction and shampoo.
Why Choose Magic Carpet Cleaning in South London?
Obviously, it's not just down to our regular cleaning. Vacuuming, and trying to prevent some of the more stubborn stains such as coffee, rust and wood stain from getting into your carpet will all help too. Our professional carpet cleaners in South London are dedicated to giving you the best possible care for your persian and oriental rugs in order to get the best results, but only with all year round care taken in the first place, can you keep your carpet like new.
Various chemicals are used for different stains and our professionals are trained to recognize every different situation, which calls for a varying way to clean your carpet, when we visit you in South London.
As well as carpets, we will also give your upholstery and rugs the best professional cleaning treatment.
Covering the South London area, at Magic Carpet Cleaning we provide for you a thorough cleaning service that leaves your carpet looking fantastic.
Don't miss out on our services!
Our guarantee is that if you are not happy with the result, we will re-clean within 24 hours, so call our advisers on 020 8930 2650 to book early and get a further discount! Alternatively, you can reach us via our contact form.